Hike founder and CEO Kavin Bharti Mittal said the company would now focus on its two new products, Vibe and Rush
The company had introduced games last year as a revenue experiment and is now launching it as a full-fledged app called Rush
At the same time, Hike is rebranding its interactive social media platform HikeLand to Vibe
Messaging platform and one-time super app Hike has decided to down the shutters on Hike Sticker Chat in a move that changes the unicorn company's core focus area from communication to gaming and social media experiences.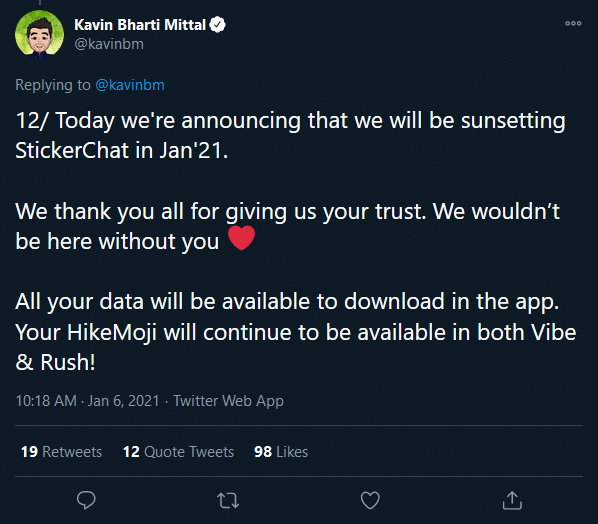 Announcing the development on Twitter earlier this month, Hike founder and CEO Kavin Bharti Mittal said the company would now focus on its two new products, Vibe and Rush. While Vibe is a rebranded version of HikeLand and would offer interactive social media experiences, Rush is Hike's mini games platform and would offer casual games with microtransactions.
Mittal added that Sticker Chat served as a test bed for launching HikeMoji, the company's animated emojis and avatars for users, which would be extended across Vibe and Rush. "With Vibe & Rush, we now have 2 Virtual Worlds that focus on a single 'Job to be Done' each thus simplifying the UX. A much better approach for today's world that is unconstrained by cheap, fast data & powerful smartphones," Mittal said in a series of tweets.
Hike's Many Pivots And Revamps
While it's still early days for this new revamped approach, Hike has been in search of a monetisation model for years. The Tencent-backed company tried to go the super app way with services such as digital wallet, ticket booking, ecommerce and more, but this did not pay off and in 2019, Hike unbundled its super app to focus on services that were showing traction. Mittal had told Inc42 last year that 2020 was the year where revenue and monetisation will come to the fore for the company.
In its last released financials, Hike reported revenue of INR 26.49 Cr in FY19, a nearly 33% fall against INR 39.46 Cr in FY18. The details showed that Hike's operational income for FY19 was merely INR 3.5 Lakh, which is a 93% Y-o-Y decrease against INR 52.08 Lakh in FY18. Hike showed operational income of merely INR 3.5 Lakh for FY 2018-19.
For the latest tech news across the world, latest Games, tips & tricks, follow Crispbot on Facebook, Twitter, Instagram.