Microsoft's semi-annual release cycle for Windows 10 feature updates is soon coming to another milestone with the release of the May 2019 Update. Also known as 19H1 or version 1903, this update started being tested with Insiders all the way back in July of last year, and it's now very close to general availability, when the majority of Windows users will be able to install it.
Light theme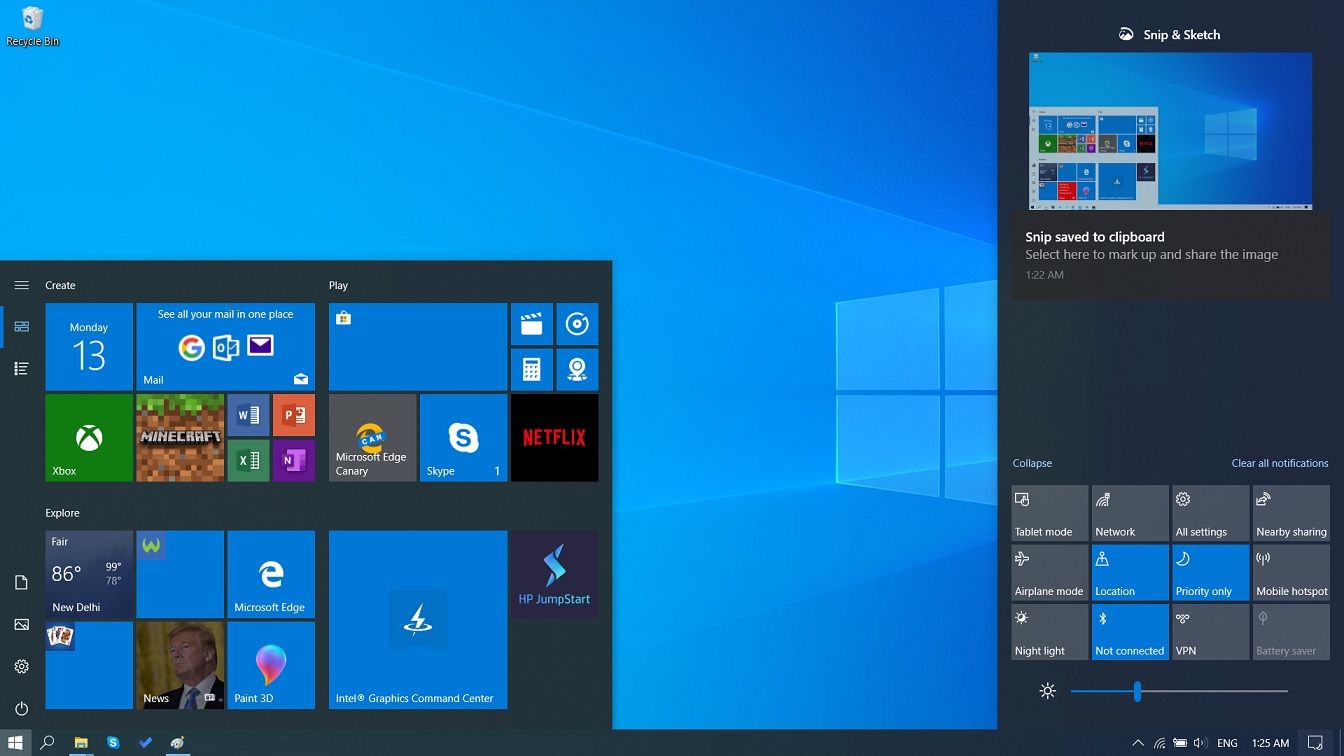 As we mentioned, the Windows 10 May 2019 Update has a new light theme that spans across more elements of the UI. Up until now, you could choose between a system-wide dark or light themes, but that change would only affect apps that support it. The taskbar, Start menu, and Action Center were unaffected, so they would either use your accent color or be black, depending on your preference.
Now, all of these elements turn white, with the white app icons, as well as any text, changing to black. To go along with that change, Microsoft has also created some new options for theme customization, so you can choose a dark or light theme for every aspect of the operating system or you can set one for Windows and one for apps.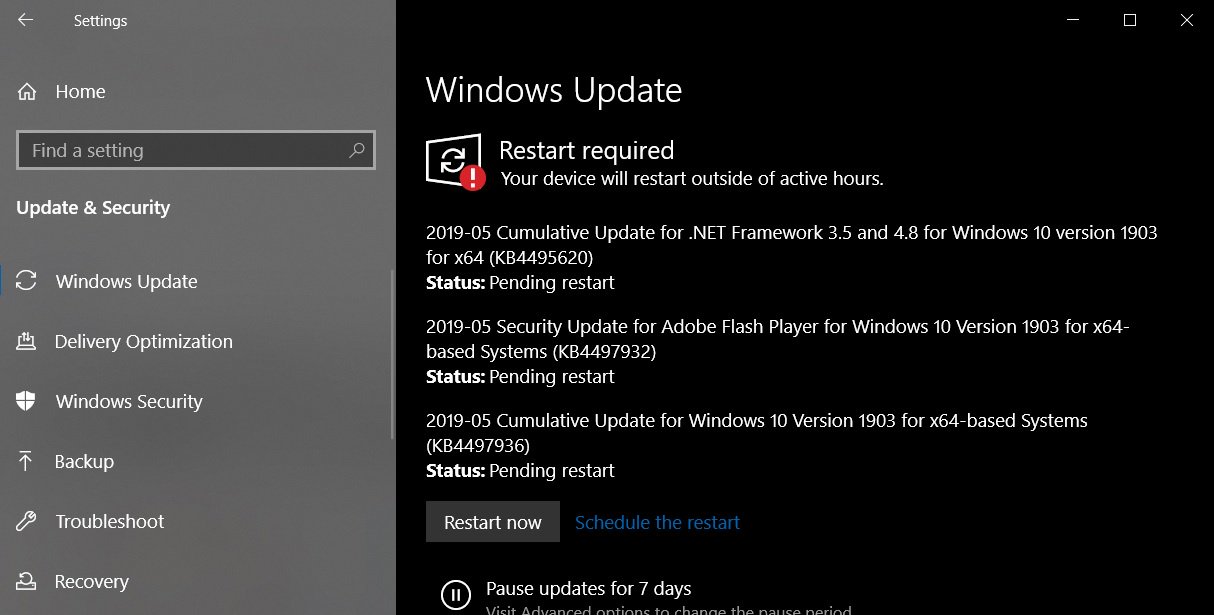 It's worth noting that enabling the light theme for Windows will disable the ability to use your accent color for Start, Action Center, and the taskbar. Presumably, this is because they would end up looking nearly the same as if you were using the accent color with the dark theme, but it does mean you'll need to set the light theme for apps and the dark theme for Windows if you want those elements to be colored while keeping the light theme for apps.
Still on the topic of theming, taskbar jump lists now use Fluent Design, and they'll use your accent color if you've set the taskbar to use it as well.
Start menu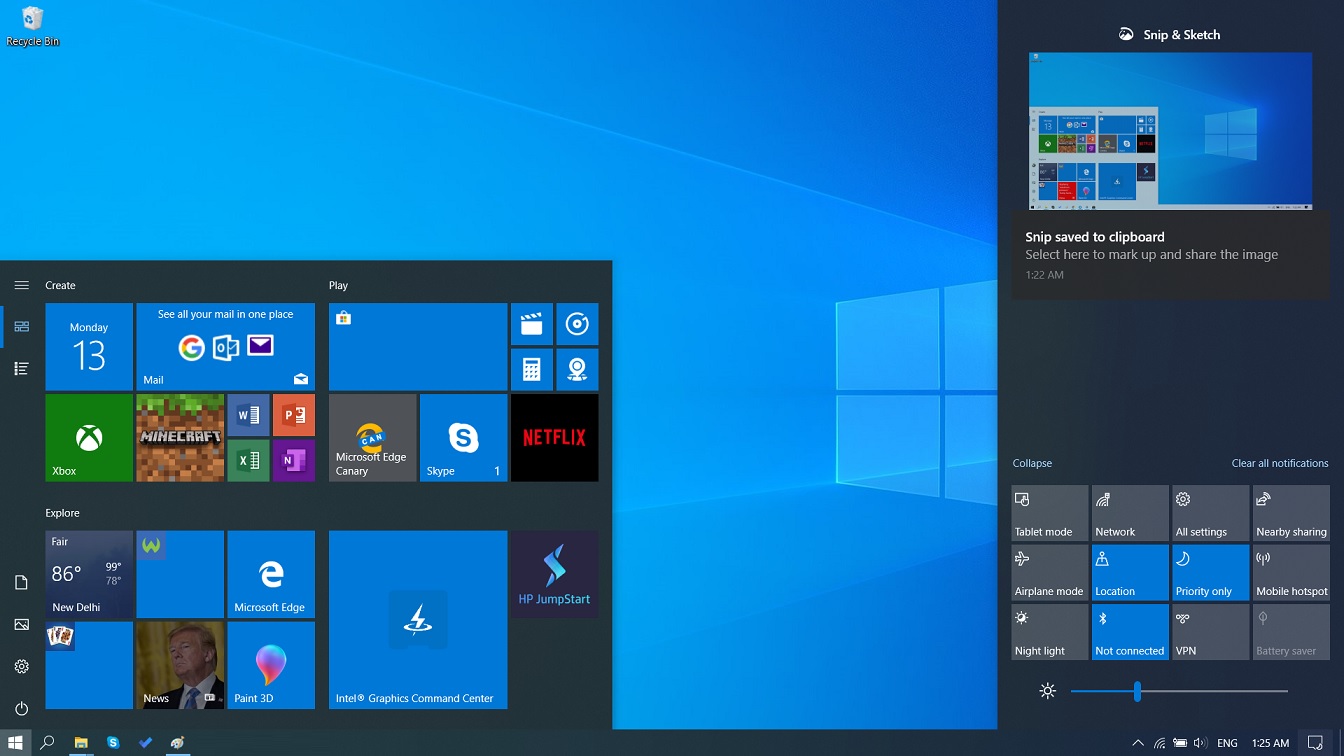 The Start menu has received a few updates in this Windows 10 release. Fluent Design is making its way to more elements of the UI, and both the power and user menus use it. You'll see the reveal lighting effect as you mouse over the options, and you'll also notice that each item now has its own icon. Another small new change is in the power menu, where you may see an orange dot next to the power button when a restart is required to finish installing an update.
Microsoft is also cleaning up the Start layout for clean installs of Windows. You'll now see that tiles are all put into a single column, reducing the amount of clutter. You'll still get some pre-installed bloatware, though. Thankfully, Microsoft is making it easier to clean up the Start menu yourself with the ability to unpin entire folders and groups of apps in one go, rather than having to do it for each tile.
Under the hood, Start is getting some reliability improvements, with Microsoft moving it into its own process, StartMenuExperienceHost, which is separate from the rest of the shell.
Taskbar and system tray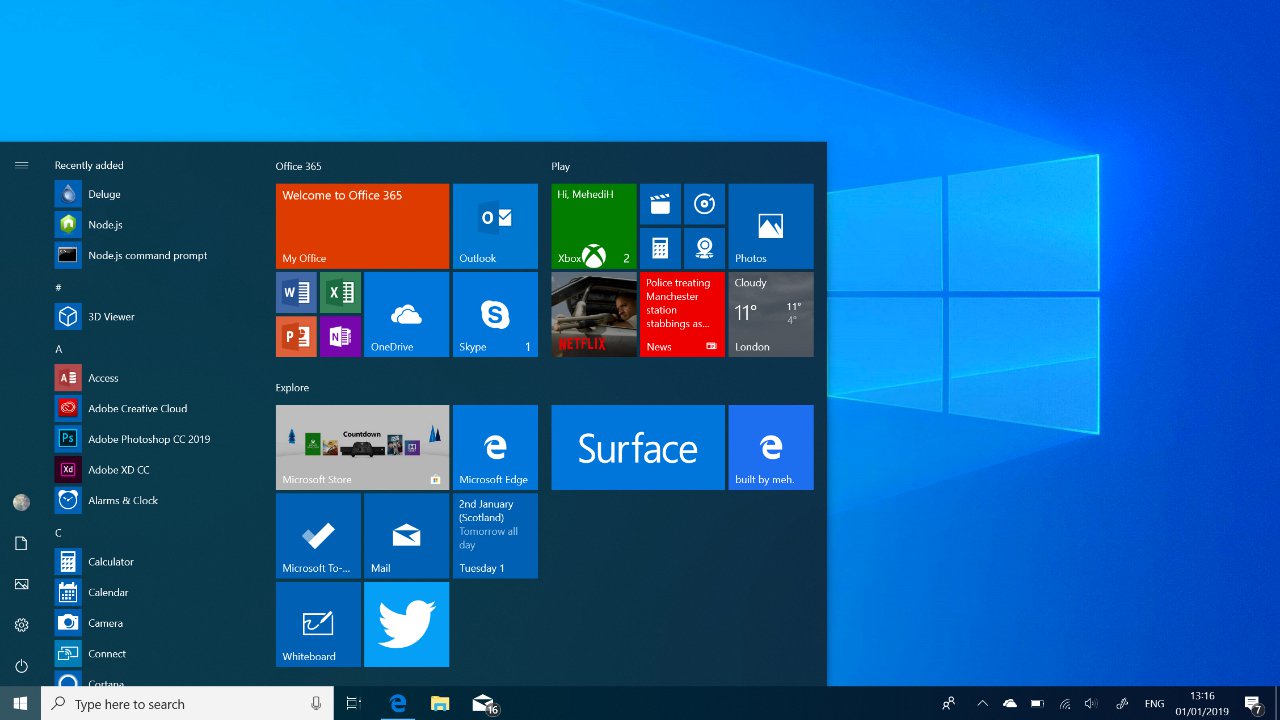 The taskbar didn't receive a ton of changes with version 1903, but it did get a pretty significant one: Cortana and the search experience have been separated, meaning you no longer need to have Cortana on your taskbar if you just want the search bar, and vice versa.
Search did get some improvements though, with a new Top Apps section and a slightly revamped look for the recent activities list in the landing page. There are also pivots for apps, documents, and so on, so you can filter your results from the get-go. And if you want the search experience to look through your entire system, you can now turn on Enhanced mode in the settings, which will index every file in your system. Setting this up the first time will take a while, but search results will show up immediately the next time you search for something.
Moving on to the system tray, there's some updated iconography for the network icon to indicate that no connection of any kind is available. Microsoft has also added a new icon that will show up when your microphone is being used, and moving your mouse over it will tell you which app is using it. If it's more than one, it'll just say how many are using it.
Windows Update and troubleshooting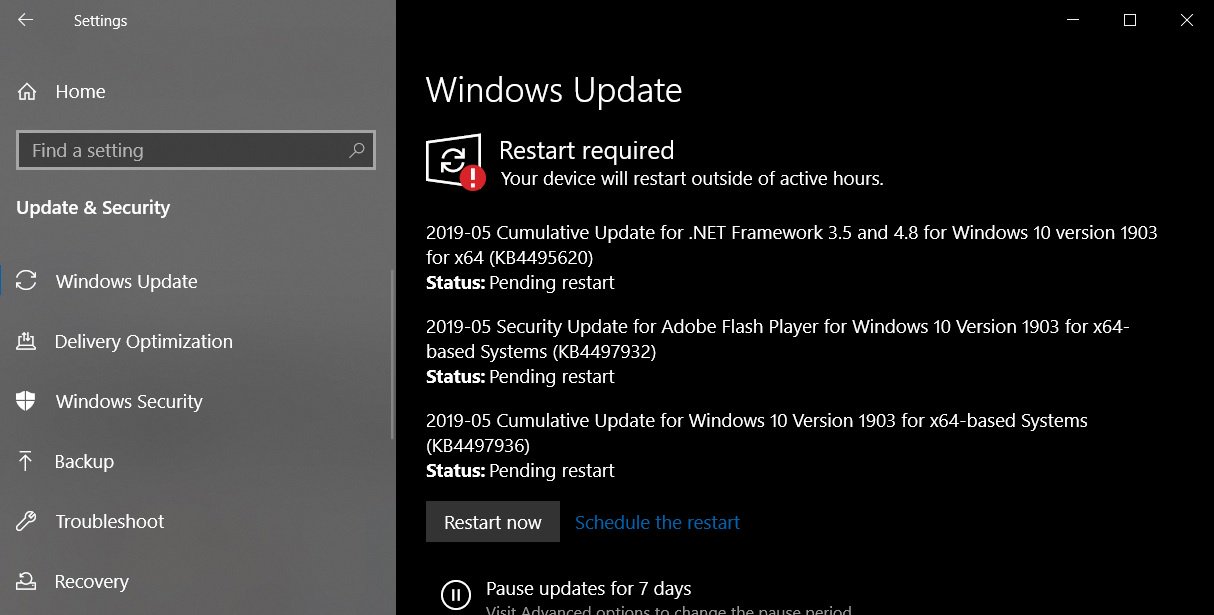 Windows Update has what might be one of the most interesting updates for users who felt like Microsoft has been too pushy with Windows 10 updates. While these changes aren't exclusive to the May 2019 Update, they're arriving at around the same time. For one thing, you'll no longer be forced to install new feature updates when you press the Check for updates button. Those will be listed separately and you can install them when you're ready.
Additionally, you can pause updates for up to 35 days, regardless of what edition of Windows 10 you have, You can pause them for seven days at a time and up to five times. Microsoft is also introducing intelligent active hours, so your computer automatically adjusts the times during which you typically use your computer instead of you having to set that manually every time your productive hours may change. When updates do get installed, if you still run into trouble, Windows 10 will now revert to the previous version automatically.
To help ensure that updates go smoothly, the May 2019 Update also introduces Reserved Storage, a feature which will automatically reserve some space to make sure that your PC can install updates. Reserved storage may vary in size over time and depending on how many optional Windows components you have installed.
Security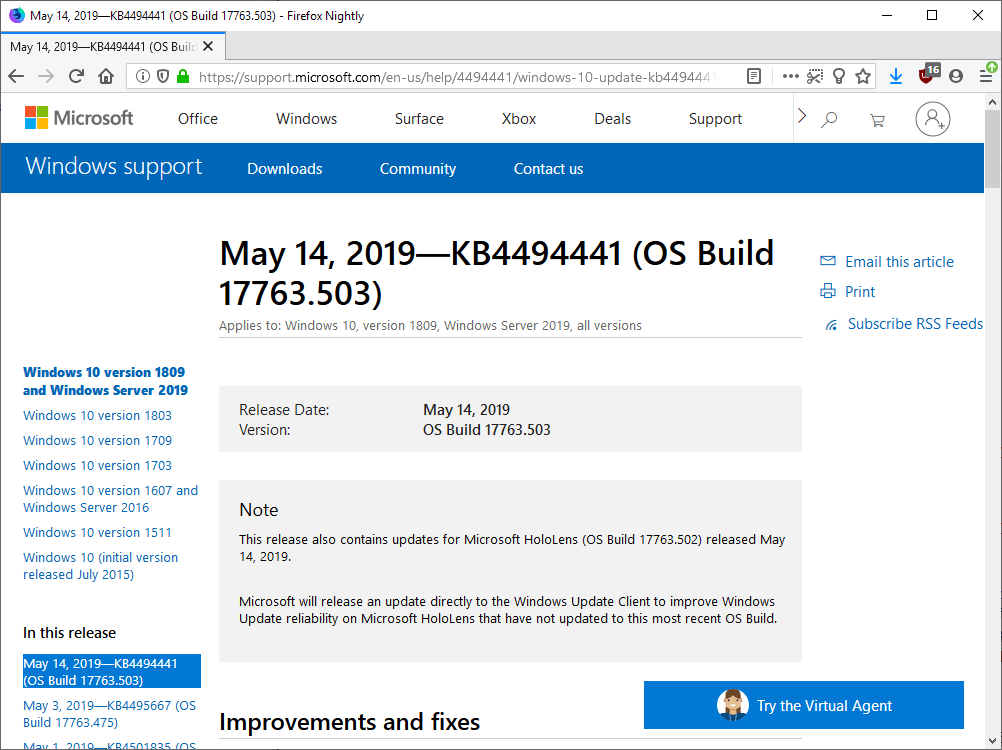 Microsoft has made a ton of improvements to security-related settings in this release. In the Windows Security app, you'll now find that the protection history page offers more information about threats that have been detected and possible actions. There's also a new tamper protection setting which, when turned on, prevents changes to critical system files.
If you use Application Guard in Microsoft Edge, you can now manage whether websites are allowed to use your camera and microphone when navigating in Application Guard. In order for it to work, you'll need to have allowed access to your camera and microphone in the system-wide settings.
Microsoft has also redesigned the sign-in options page to make it easier to set up an alternative sign-in method, and you can now use a physical security key to log into Windows, too. Additionally, the PIN reset experience has been streamlined to make it more like the password reset process on the web.
Enterprise users on Cloud Domain Joined devices can also now turn on the ability to let Windows sign on automatically to finish installing updates after a restart. Enabling this requires BitLocker to be enabled, TPM 2.0, and SecureBoot.
Microsoft is making a bigger push away from passwords, so, when doing a clean install of Windows 10, you can set up your Microsoft account using your phone number to get a security code. You'll need to enable password-less login for your account, which you can do by signing into a mobile app like Word using your phone number.
Action Center and File Explorer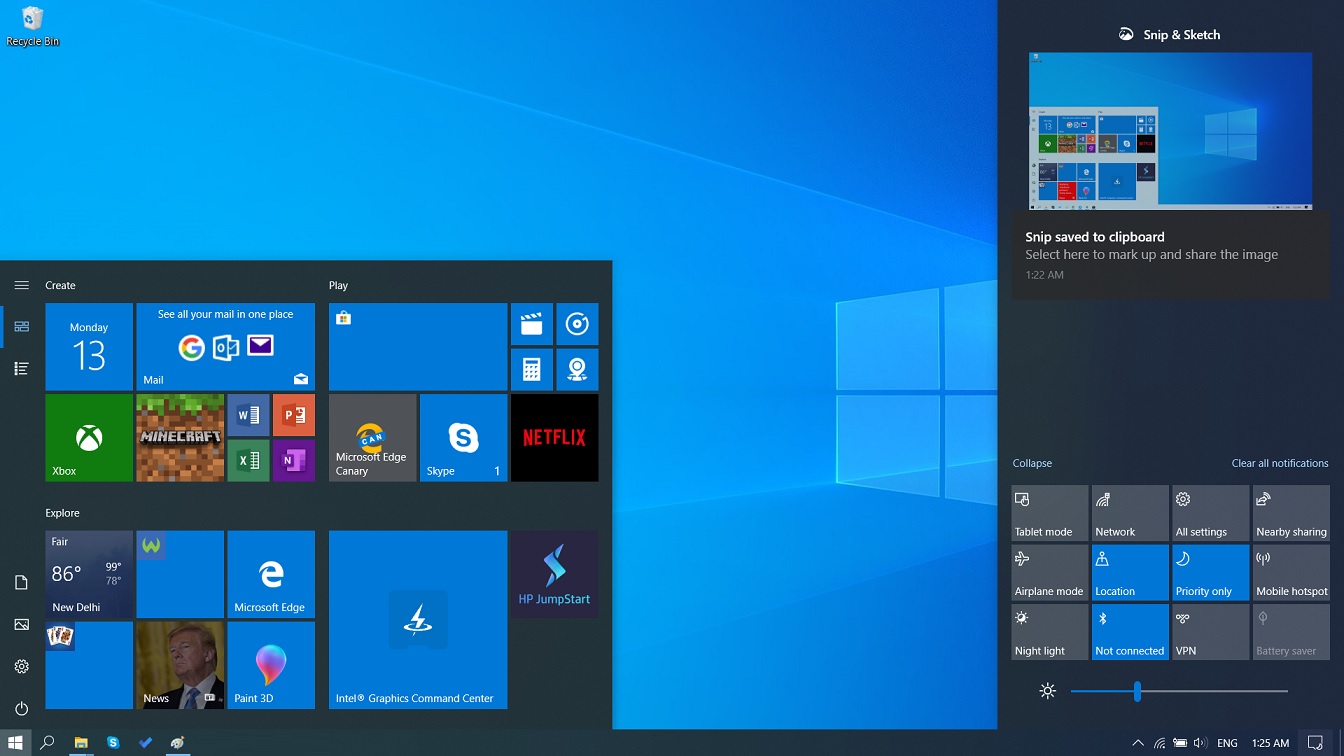 The only notable news for the Action Center concerns the quick actions section. For starters, you can now edit this section directly in the Action Center itself, instead of doing it through the Settings app. Additionally, in what's likely a very welcome change, the quick action to adjust the brightness is a slider rather than a button, for more precise control.
There's a couple of notable changes for File Explorer. The first thing you might notice is the new icon, which has updated colors to make it look a little less flat. The other notable change is that files in the Downloads folder are now sorted (and grouped) by date by default, making it easier to find files with hard-to-memorize names. Of course, your custom sorting setting won't be changed after updating.
For more such latest tech news, follow Crispbot.